LG's DualUp monitor is the world's first 27.6-inch 16:18 aspect ratio display and boasts a 2,560 x2,880 resolution for seamless multitasking between work and play. It also sports AMD FreeSync™ technology to eliminate stuttering or tearing during gaming sessions with high frame rates.
The "LG 27UD88-W" is a 27.6-inch monitor with 16:18 aspect ratio and SDQHD (2,560 x 2,880) resolution. It has an IPS panel, 5ms response time, and NVIDIA G-sync support.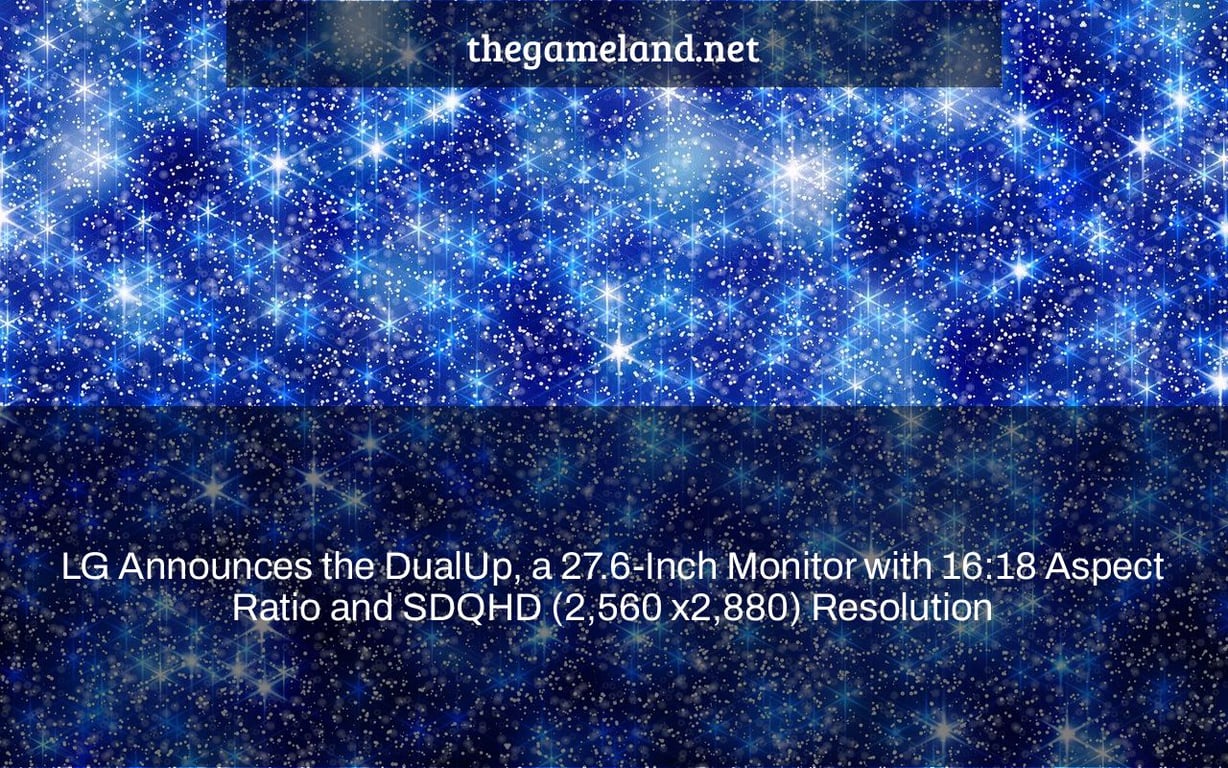 Image: LG
Since the majority of display manufacturers opted to move from 4:3 panels to 16:10/16:9 panels, professional users have been grumbling about the loss of vertical screen space, but LG is hoping to address this to some degree with one of its future monitors.
LG will debut a new 27.6-inch monitor named the DualUp in 2022, according to a press statement released today. The DualUp has a revolutionary aspect ratio of 16:18 and SDQHD resolution (2560 x 2880), giving users plenty of vertical area to work with. These are IPS panels with HDR10 compatibility, 98 percent DCI-P3 color space coverage, and a reaction time of 5 milliseconds.
LG has also unveiled a new 4K UltraFine Display, the characteristics of which may be seen in the table below:
Image: LG
According to LG's press release:
LG DualUp Monitor is a multitasking powerhouse suited for a variety of jobs such as content production and coding. It has a Nano IPS display with a unique 16:18 aspect ratio – a whole new monitor format. The unique Square Double QHD (2,560 x 2,880) resolution monitor includes a vertical split view capability that allows users to see more in one look and has the same screen real estate as two 21.5-inch screens. The LG 28MQ780 boosts productivity and convenience by elevating user comfort with the LG Ergo stand, which saves space by clamping firmly to most desks and tables. The LG DualUp Monitor's double-height screen also lowers side-to-side head motions, which are the leading cause of neck strain.
"LG's premium monitors for 2022 give the image quality, capabilities, and usability that both professionals and home users need," said Seo Young-jae, senior vice president and head of LG Electronics Business Solutions Company's IT business segment. "Our dedication to explore new form factors and functions to broaden and improve our flagship monitor portfolio is shown by these CES Innovation Award-winning devices."
During LG's virtual press conference at CES 2022, the company will provide further information about the DualUp Monitor. It will begin at 8:00 a.m. PST on January 4th.
LG is the source.
Recent Developments
Day Seven of the Epic Games Store's 15 Days of Free Games is Mutant Year Zero: Road to Eden.
22nd of December, 2021 22nd of December, 2021
In 2022, Micron claims that DDR5 supply will improve.
22nd of December, 2021 22nd of December, 2021
Dark Horse Media, Perfect World Entertainment, and other companies have been acquired by Embracer Group.
21 December 2021 21 December 2021
RadioShack Makes a Comeback as a Cryptocurrency DeFi Firm, With Plans to Launch a Swap Using RADIO Tokens
21 December 2021 21 December 2021
Henry Cavill Opens Up About His Desire to Star in a Red Dead Redemption Film
21 December 2021 21 December 2021
Day Six of the Epic Games Store's 15 Days of Free Games is Second Extinction.
21 December 2021 21 December 2021
Watch This Video-
The "7680 x 2160 curved monitor" is a new 27.6-Inch monitor from LG that has 16:18 Aspect Ratio and SDQHD (2,560 x2,880) Resolution.
Related Tags
7680×2160 monitor
32:9 monitor 7680×2160
7680 x 2160 resolution
lg 27ud88-w price
lg 27ud88 refresh rate